Are you ready for 2021? The coronavirus pandemic has greatly impacted the hiring process as we know it. Make sure your company is set up for success in the New Year by developing an effective hiring strategy to prepare for recruitment and ensure success in 2021.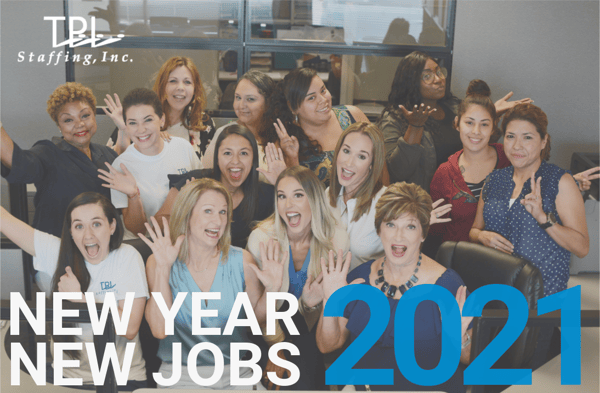 How do you best plan for a seemingly unpredictable future? It starts with having the right approach and setting goals and expectations for the year. Make sure your company is set up for success in the New Year by developing an effective hiring strategy to prepare for recruitment and ensure success in 2021.
Creating Your 2021 Hiring Plan
1. Budgeting
Many companies are experiencing budget cuts and may be hesitant to hire due to the ongoing pandemic. But hiring doesn't have to be scary or expensive. In fact, many employers are taking advantage of a Temporary or Temp-to-Hire service and are able to try out a candidate risk-free first, without adding to their headcount or breaking the bank.
Budgeting all starts with estimating costs. In order to calculate recruitment costs for budget planning, consider:
1) Estimating your total number of new hires for the year
2) Estimating your recruitment costs (staff, technology, software, onboarding, screening)
3) Setting your marketing budget (job boards, ads, job fairs, promotional items, conferences)
4) Targeting specific groups for targeted ad content (set social media budget based on volume)
5) Calculating the cost of your full-time new hires for 2020 and compare that with the cost of temporary employees recruited by a staffing company
Remember to review budgets quarterly or annually to ensure that it is being implemented in a manner that meets the strategic priorities set by your company.
2. Consider a Temporary Workforce
When you use temporary workers, you only pay for the hours worked and you are not obligated to make a hiring commitment - which is a huge benefit especially in our current economy. Staffing agencies are an effective way to hire people exactly when you need them.
How much do temporary workers actually cost?
Temporary (contract) employees only work the specified hours or days you need them, so you only pay for the time worked or until the project is completed. Compared to full time staff, contract workers cost much less than salaried employees. Workforce flexibility, hiring speed, and access to available talent are just a few of the top benefits of using a staffing agency.
Related Reading: Cost of Full-Time Employees versus Temporary Employees
3. Preparing to Hire Post-Pandemic
As businesses continue to re-open, many of us are returning to work with unique needs and new challenges. Over the coming months, we expect to see job growth continue now that safety protocols are successfully in place and as businesses move forward, even if it is a modified version.
Evaluate your hiring criteria. The way you search, select and interview potential applicants hinges on your hiring strategy. Regularly review your main criteria for making a hiring decision. Look back on previous hires that were both successes and failures to identify candidate traits, past work experience, or certain skills of past candidates or new hires.
Related Reading: How a Staffing Company Can Help During Times of Uncertainty
4. Create a Timeline
Hiring managers should define the hiring timeline prior to starting a search for talent. Hiring peaks, seasonal needs, special projects, or if you are expecting a large number of job openings, follow a hiring timeline to ensure your needs are met.
If your company needs to find an employee immediately, reaching out to a recruiting agency that has a vast database of vetted candidates may be your best option. If your company's need is not urgent, then you may be able to source for talent at a slower pace, while incorporating a more targeted approach.
Start conversations sooner. Employers have a very narrow window - 24 hours up to 1 week on average - after your interview before the candidate is lost to your competitors. The longer you wait to decide on a candidate, the more likely you are to lose them.
5. Plan a Rehire Strategy
This year, the majority of companies are focusing on rehire strategies in order to bring back former employees that were unfortunately furloughed or laid off in 2020. If you're in this position, schedule a
15 minute intro call
to see how a staffing agency can help bring back the
valuable skills of former employees by transferring them to our payroll at a
discounted price
.
If your company has unfortunately downsized or went through layoffs—rehiring through
payrolling
may be your answer.
Give TPI Staffing a call at (855) 855-4473 or connect with us to discuss the ways we have helped our clients and find out how we can help your company!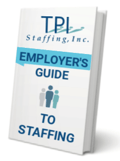 Want to learn more about getting started with a staffing agency for your 2020 hiring needs? Download our Free Employer's Guide to Staffing today.
TPI Staffing has been serving the Houston area for more than 30 years, helping local businesses since 1988. If you are in need of filling your open positions with the right job candidates, contact our team of recruiters today to work with one of the best temporary staffing agencies in Texas.