Benefits of Hiring Employees Through an Employment Agency
Workforce flexibility, hiring speed, and access to available talent are just a few of the top benefits of using a staffing agency. Using a staffing agency can be greatly advantageous. Here are 6 main reasons how your company can benefit from working with a staffing agency.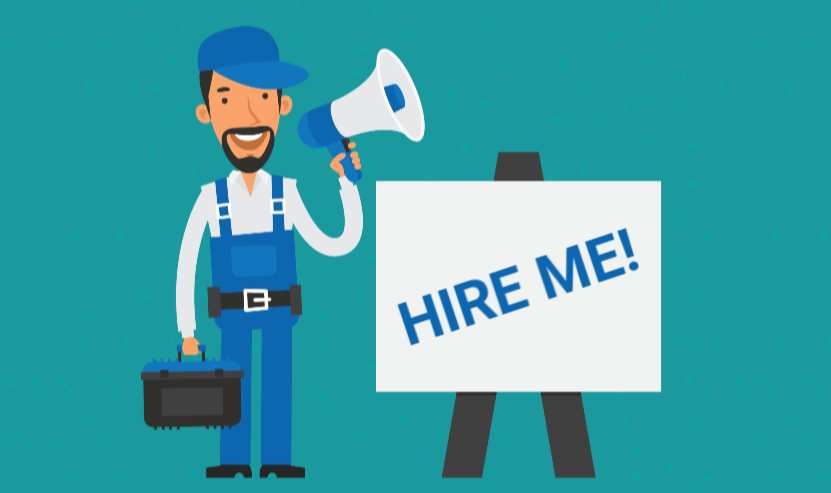 Many companies turn to staffing agencies to handle all the benefits associated with the candidates they hire including taxes, payroll, worker's compensation, unemployment, and other benefits, thus reducing overhead costs for employers. Staffing agencies find, screen, and match job seekers with employers every single day- and can fill jobs within hours or days.
By working closely with the staffing agency recruiter, a hiring manager can ensure that workers are equipped with the skills needed to meet your specific needs. Not sure where to start? View our Comprehensive Guide to Staffing Agencies in Texas.
Here are 6 reasons companies benefit from working with a staffing agency like TPI Staffing: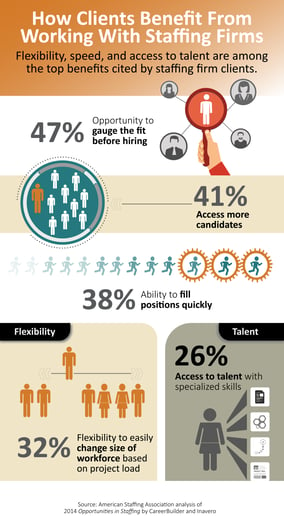 1) Try Candidates Before You Hire
Temporary employees give your company the chance to try out an employee before making a full-time job offer. Gauge the fit before hiring a temporary worker, and, if they are exactly what you're looking for you can then decide to hire once they've checked all of your boxes. This is one of the main benefits of using a staffing agency.
Temp-to-Hire staffing is the perfect risk-free solution, which is why 47% of staffing clients voted the opportunity to gauge the fit before hiring as a top benefit of working with a staffing agency.
2) Ability to Fill Positions Quickly
Because staffing agency recruiters keep a pool of readily available talent for a variety of jobs and industries, a job opening can easily be filled within a matter of hours or days. Staffing services lead to a faster hiring process. Agencies handle background checks, drug screens, skills testing, interview scheduling and carefully qualify each candidate's work experience. These services alone help staffing clients find top talent faster by up to 80%
The ability to fill the positions faster with an agency than on your own is among one of the top cited reasons voted by staffing agency clients as a top perk of temp services.
3) Access Specialized Candidates
Staffing agencies have a broad network of candidates and connections that are not easily found through a simple job search. Whether you have a specialized opening that requires a specific skill set, certification, or a large number of openings that need to be filled quickly, an agency is your best bet.
4) Increased Workforce Flexibility
Employers are able to adjust their workforce to changes in business demands. Companies depend on staffing services to provide them with talented workers who can meet a wide range of needs. The flexibility to easily change the size of your workforce based on project load or demand is another benefit to using a temporary agency.
hiring peaks

seasonal needs

special project

large number of openings

hard-to-fill jobs
5) Recruiting Partner
Top staffing agencies hire recruiters with direct experience in niche industries. Recruiters know the recent trends and changes in the market. Over 1,500 clients have come to TPI Staffing with a variety of hiring issues and continue to use our resources because they experience the benefit of staffing firms.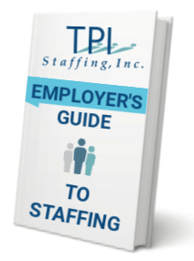 Accounting/Finance

Administrative

Professional

Human Resources

Customer Service

Light Industrial

Manufacturing

Technical and more
Not sure where to start? View our Comprehensive Guide to Staffing Agencies in Texas. Or download our FREE Employers Guide to Staffing to learn more about the world of staffing.
6) Administrative and Payroll
Other time consuming duties that the staffing agency handles such as pre-screening, verifying references, education checks, processing payroll, unemployment and workers' compensation are other perks you can enjoy not having to do.
Pre-screening (criminal background checks, drug screens, skills testing, interviews, references and education)

Processing payroll, unemployment and workers' compensation
Give TPI Staffing a call at (855) 855-4473 or or connect with us to discuss the ways we have helped our clients and find out how we can help your company!

TPI Staffing has been serving the Houston area for more than 30 years, showing we have helped local businesses since 1988. If you are in need of filling your open positions with the right job candidates, contact our team of recruiters today to work with one of the best temporary staffing agencies in Texas.