New Year, New Goals!
Have you started thinking of your New Year's Resolutions? Start organizing early for your NEW job.
TPI Staffing knows that interviewing can be an exciting, yet nervous time for most job seekers. The first step to owning your interview is how you prepare BEFORE you arrive. To help you see the brighter side of interviewing, check out our Interview Guide to take you to the top in 2019!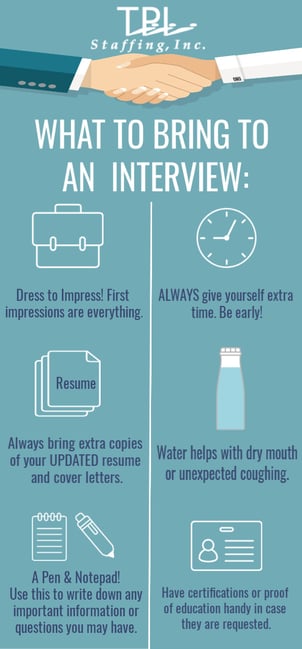 Need more help? Don't worry, we've got that covered too.
1. Update your resume. Include important job skills, certifications, and any software programs used throughout the year.
TPI Staffing Tip: Google "resume templates" and most sites offer FREE ways to update and format your resume in an easy way.
2. Renew Social Security and expired ID/Driver's License cards. Places of employment typically ask for identification before hiring. Don't let this be your only barrier between you and your NEW job.

3. Where's your High School Diploma/G.E.D. documents?If you are still visiting family for the Holidays, ask your "Designated Document Holder" family member to locate your diploma. Dig up some good memories while being productive!
TPI Staffing Tip: If there is absolutely NO way to obtain the original document, know your CORRECT year of graduation, High School Name with city and state, and any contact information necessary.
4. Utilize a portion of your time off during the holidays to get a head start for a prosperous future career.
TPI Staffing Tip: Most places are still open during the holidays, use this time to be the first in line at DMV or the Social Security office. Go to the Library or Workforce Solutions offices to use the computers if needed.
5. Job Search. Go to www.tpistaffing.com and "Apply Online" then click "Search Jobs" to browse through open roles. Start sending updated resumes to the recruiter in the job description to be considered.
The early bird gets the worm! Apply NOW!