Employee safety training is critical to a safe workplace. Consider adding these topics to your employee safety training program. New safety training videos are available online exclusively for TPI Staffing employees and clients to access for FREE.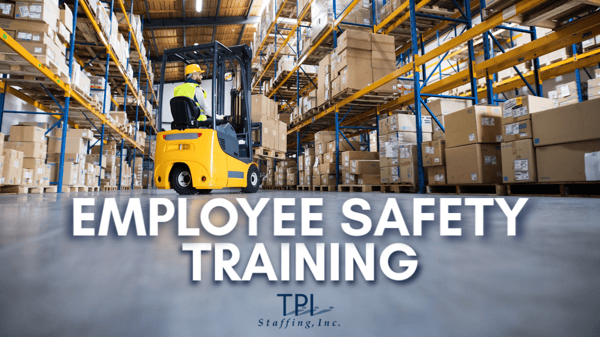 While these safety topics may not cover all the areas you need training for, they're a great start for most companies in a variety of industries. TPI Staffing provides basic safety training to all employees and has free safety training videos available online as a complimentary resource for our clients.
Companies may want to consider adding these topics into your employee safety training program:
General Workplace Safety
Fire Safety
Electrical Safety
Workplace Ergonomics
General Housekeeping
Rules & Policies
Equipment Safety
Machine Safety & Guarding
Lockout/Tagout
Safe Lifting
Forklift Safety
Personal Protective Equipment (PPE)
Some job functions may require the use of personal protective equipment, or commonly known as "PPE". Train employees on how to properly put it on, adjust, wear and take it off, the different types of PPE to be used at your facility, proper care, maintenance and fit, in accordance with the requirements outlined by OSHA.
Signs & Notices
Danger signs, warning signs, caution signs and notices
Chemical Hazard Communication

(Container Labeling and Safety Data Sheets)
Emergency Plan and Communication
Areas for Human Resources to consider in planning for emergencies.
Emergency Plan- Identify the types of hazards and emergencies and have a procedure for each scenario. The best emergency action plans include all employee groups in the planning process, specify what employees should do during a specific emergency, and ensure that employees receive proper training for emergencies.
Evacuation

Floods

Fire

Contagious illness

Hurricanes/Tornados

Workplace violence
Emergency Contacts-

Identify the individuals or departments to contact in the event of an emergency. Make readily accessible to employees and post in the workplace.
Working Remotely- Identify which positions can work from home and the equipment that is necessary for employees to be able to work from home.
Telecommuting- Determine under which circumstances telecommuting will be permitted.
Communication-

Because requirements at the federal, state and local level are constantly changing, employers should monitor these developments and should update communications regularly.
Public Health Emergency Plan
*In response to Public Health Emergencies such as the coronavirus, also known as COVID-19, employers may consider taking these additional steps and updating company policies.
Provide employees with additional resources so that they may learn more about the situation as it develops.

Frequently update employees about policies, travel limitations, working remotely, and safety precautions/measures the company is taking.

Review Paid Leave policy

Review FMLA leave policy

Shelter-in-place locations

Communication methods and contact info
Slip/Trip/Fall Hazards and Prevention
Slip, trip and fall hazards constitute the majority of general industry accidents. Train employees how to recognize slip, trip and fall hazards and follow best practices to help prevent slips and trips.
Develop a Workplace Safety Program
A proactive safety program is the best way to reduce the risk of work-related accidents, avoid employee injuries, lost time, and prevent workers' comp claims–which in turn, increases employee morale and productivity. Here are our top tips to Develop an Effective Workplace Safety Program to help make your safety message stick.
Watch safety videos
For full access to Safety Training videos, get started by contacting a TPI Staffing Representative today or call 281-890-3331.
More safety topics
While these are some general health and safety topics your training should cover, there are additional industry-specific and site-specific training your employees will need. Refer to OSHA for full list of safety topics.
Additional help

Need help tailoring your safety training to your company's needs? TPI Staffing can help! Safety matters, and at TPI Staffing we go beyond Recruiting and HR. Most recently named 2017's Platinum Safety Partner awarded by Texas Mutual Insurance- TPI Staffing, Inc. is one of only 200 businesses receiving this award out of 68,000 Texas Mutual policyholders across Texas, placing TPI Staffing in the top 97%.
We've developed an innovative library of safety training materials for employees and clients to access. Get in touch today to see how we can help you meet your hiring and safety goals!
TPI Staffing has been serving the Houston area for more than 30 years, showing we have helped local businesses since 1988. If you are in need of filling your open positions with the right job candidates, contact our team of recruiters today to work with one of the best temporary staffing agencies in Texas.