At TPI Staffing, Inc. we are continuing our prevention measures. Here's a few helpful reminders on how to prevent illness and reduce the risk of spreading it in the workplace.
If you think you are sick or have been exposed to the COVID-19, please contact your healthcare provider for medical advice.
Employees should continue to take basic preventive measures and safety precautions that may help to reduce the risk of contracting the coronavirus or spreading it in the workplace, including:
Call before visiting your doctor and inform them that you are sick and/or may have COVID-19.
Wear a face mask if you believe you are sick.
Stay home and avoid public areas.
Limit contact with others within your own home to avoid infecting others
Do not share personal items
Wash hands

thoroughly with soap and water for at least 20 seconds or an alcohol-based hand sanitizer that contains at least 60 percent alcohol

Cover your cough or sneeze
Disinfect frequently touched surfaces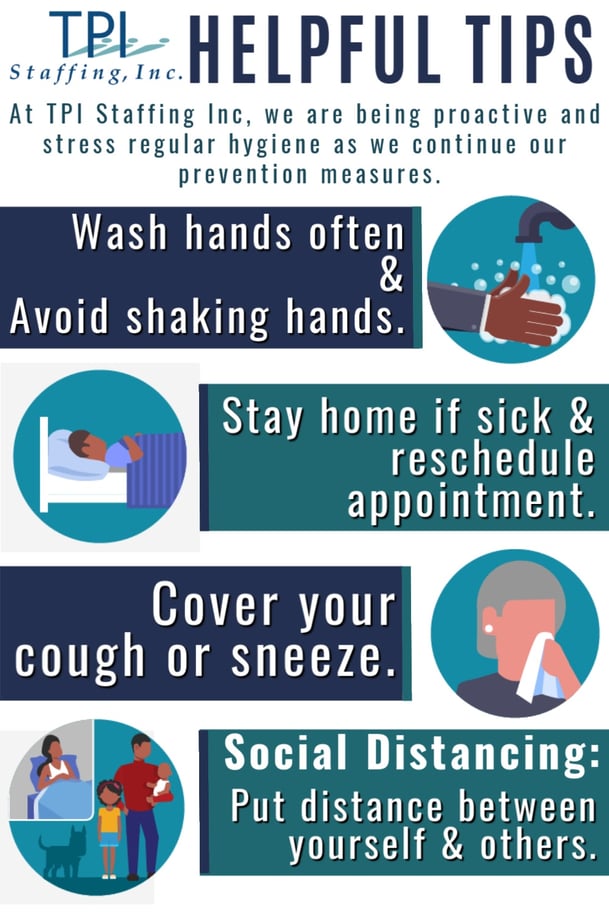 If you have traveled to one of the areas with widespread or ongoing community spread within the last two weeks, please contact our HR team at 281-664-6505 or hr@tpistaffing.com.
Employees who have questions or concerns regarding this information, TPI Staffing Inc.'s leave policies, or any other issue, should speak with our HR Team at 281-890-2220, option 7 or email hr@tpistaffing.com.
To learn more about the novel coronavirus and keep up with the latest developments, see the About Coronavirus Disease 2019 and CDC's Frequently Asked Questions and Answers webpages.