More and more companies are turning to staffing agencies to help find better quality candidates. Most businesses can use some extra help to handle an unexpected surge in production, new project, or unexpected business increase. Here are the top reasons why employers or hiring managers should use a staffing agency.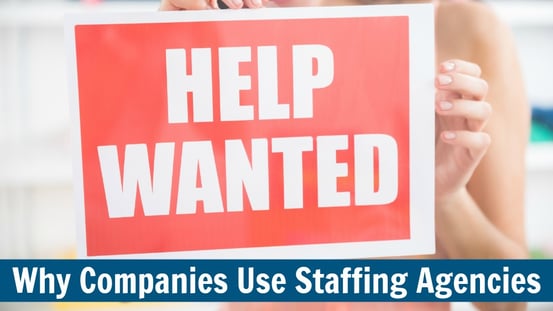 Why Employers Should Utilize A Staffing Agency
No matter what industry you're in, utilizing staffing firms has a variety of benefits to offer- more qualified candidates, seasonal hiring flexibility, the ability to try out an employee before making a hiring commitment and more. Find out if working with a staffing agency might be the right fit for your company.
1.You'll save time.
Having an extra set of hands to review applications, interview candidates, negotiate salaries, background check, drug screen and process payroll all allow you more time to focus on your core business. By using a staffing agency to assist in your candidate search for new talent, the time-to-fill ratio can be cut down by over 80%. Say goodbye to reviewing thousands of unqualified applications, staffing services only present qualified candidates to you that match your specific requirements for the job opening. Staffing services can lower costs, improve focus, and reduce the risk of not finding qualified candidates.
2. You'll save money.
It's simple -- better quality employees means less turnover and more sales. Imagine if your team could focus 100% on your high priority tasks, and leave the hiring process up to industry specialists. Utilizing temporary employees to supplement your full time staff can save your business time and money. While there are costs associated with temporary employees, in-comparison, temps cost much less than full time employees.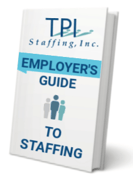 Interested in learning more about how to get started with a staffing agency? Download our Free Employers Guide to Staffing for additional information about the staffing world.
3. You'll get access to a wider range of candidates.
Temporary agencies work with job seekers who are flexible to work different assignment types and hiring options- temporary, temp-to-hire and direct hire. Staffing agencies recruit both active and passive job seekers, which in turn, opens up the candidate pool.
4. Easy way to build a better pipeline.
By partnering with a staffing company, you can build a strong talent pipeline to ensure you have the right people in order to grow your business. Staffing agencies offer full-service employment solutions to make managing your workforce easier, offering a variety of recruiting and screening services.
5. You'll hire employees only when you need them.
Whether you have an unexpected increase in business activity, need to fill a temporary vacancy, or require candidates with specialized knowledge to complete a special project, find a staffing agency that offers a variety of services to meet your individual needs.


6. Perfect alternative to downsizing.
Payroll solutions can be a perfect alternative to downsizing. Many businesses choose not to bring on an employee as a company hire, but rather "payroll" the employee through a staffing agency or PEO. That means that the staffing agency is the employer of record and manages all payroll expenses such as taxes, unemployment, workers' compensation, insurance deductions and W-2. It's that simple!
7. You'll have a Personal Sales Rep and Recruiter working around the clock to fill your job opening.Get started by talking to a TPI Sales Rep today!
View the Comprehensive Guide to Staffing Agencies in Texas here.